Stamped Concrete in Livermore CA
Stamped concrete is the Ferrari of concrete with its unique look. This is the choice of many high end resorts and hotels that want their customers to feel like they are having a luxurious experience. So why not put it in your backyard and be on a vacation everyday? An expert stamped concrete contractor will be able to mix and match colors and patterns to achieve a one of a kind concrete that you will surely enjoy for many years to come. 
Stamped concrete has been around for decades but has picked up in popularity over the last 15 years or so because of its ability to be molded to look like really any material. There are wood plank patterns, ones to make it look like cobblestone or more subtle texture additions that can be done. Adding a unique color and pattern can change the atmosphere of your outdoor living space. Do you want cobblestone that will make your backyard feel like a Tuscan retreat or maybe you enjoy the uniform look of tile like pictured above? A stamped concrete patio is the perfect way to build your dream backyard that you will be proud of. We can do it all and we always offer competitive pricing.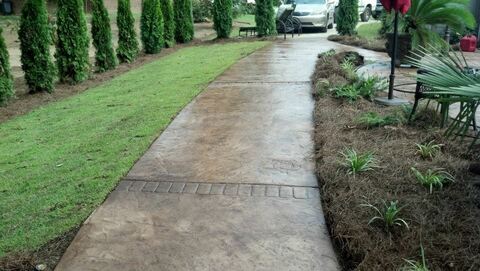 Not all concrete contractors are built the same. With varying levels of experience and knowledge some are stuck pouring bland gray concrete with the standard brush finish. Livermore Concrete Solutions has invested in our crews to give them the knowledge and skills to do a wide range of colors while supplying them with a number of stamping patterns. Let one of our concrete experts walk you through the possibilities with a no obligation quote on your next concrete project. Call today!
Fill out the form below and a team member will get back with you as soon as possible.